Election Day-What is at Stake?
What is at stake?
It has long been my position that if someone does not vote, they have no right to complain about the candidates or the outcome of the election.
Romans 13:1--
Every person is to be in subjection to the governing authorities. For there is no authority except from God, and those which exist are established by God.
1 Peter 2:15-17--
For such is the will of God that by doing right you may silence the ignorance of foolish men. Act as free men, and do not use your freedom as a covering for evil, but use it as bondslaves of God.

Honor all people, love the brotherhood, fear God, honor the king.
1 Timothy 2:1-3--
First of all, then, I urge that entreaties and prayers, petitions and thanksgivings, be made on behalf of all men, for kings and all who are in authority, so that we may lead a tranquil and quiet life in all godliness and dignity. This is good and acceptable in the sight of God our Savior.
Proverbs 11:11--
By the blessing of the upright a city is exalted, But by the mouth of the wicked it is torn down.
There are many things that we can do in light of scripture concerning rulers and authorities. Pray for them, serve and honor them, and as in our case we have an incredible opportunity to vote for or against them. The privilege to vote and see the peaceful transfer of power is a wonderful reality that we have known in our country for some 240 years. This is not the case for many nations nor has it been their history. Sadly, we have grown indifferent and even resentful of such an amazing freedom—may that not be the case among us. We have a great responsibility as citizens of the USA to vote for our next president and many other elective offices, up and down the ballot. How should the believer vote?
Prayerfully—
pray for each candidate that you are voting for, and against.

If possible, on a local level, we should have engaged (should continue to engage them) these candidates in conversation, possibly over coffee or a meal.

If every believer and especially every pastor did that with local candidates there would be, I believe, an improving in the quality of our candidates and a better relationship with the newly elected.
Carefully—
We must as believers vote our values and convictions.

May we not be blinded by an I, or D, or R after their name but instead be guided by the R and W.

It is not a matter of whether they are Independent, Republican, or Democrat but rather it is a matter of what is Right and Wrong.

Discover what the beliefs of these candidates are and the platforms on which they are running.

This will at least give us a starting point of knowing where and how they will make decisions once they take office (this is no guarantee).

NO candidates will ever live up to all the standards and values that we may espouse but an imperfect candidate or candidates does NOT excuse us from voting, we still have that responsibility.
Obediently—
it is our responsibility as citizens of the country to seek the welfare of the city or nation in which we live (Jeremiah 29: 7).

That means that we are to obey the laws, help to improve the quality of life in our communities, and live our lives in such a way that we are salt and light in society.

Vote—YES, but also Serve our Lord because HE Alone is King and we must seek to be committed followers of the Lord Jesus.

We make our nation a better nation, we make our state a better state, we make our city a better city when we live better, when we act better and serve better.

If we look to these officials and candidates to serve us and yet, we do not do our part, we have failed in our responsibility.
May God have mercy on us as a city, state, and nation and that indeed, may Righteousness be exalted…
In Christ,
Dr. Tommy Middleton
Executive Director of Missions
*Donate to Disaster Relief Now*
Mold Removal Guidelines for Your Flooded Home
•

Director Tommy Middleton


Rebuilding After the August 2016 Flood


Needed:
Skilled workers
Insulation, Sheetrock and Supplies
If you need more information contact
our office at 225.296.3943



GIVE TO DISASTER RELIEF



BAGBR is currently accepting monetary
donations for local disaster relief recovery efforts.


(No administrative cost will be paid from your gift)





*

Donate Online Now*

Text a Donation to 225-283-4654

Be sure to include the $ in front of the amount
when you text your donation. If first time, you
will be prompted to visit a secure URL.



or

Send Check payable to:
BAGBR
10560 Airline Hwy.
Baton Rouge, La 70816


Greetings from Executive Director Dr. Tommy Middleton
Dear BAGBR Churches,


Zech. 3:4-5 He spoke and said to those who were standing before him, saying, "Remove the filthy garments from him." Again he said to him, "See, I have taken your iniquity away from you and will clothe you with festal robes." Then I said, "Let them put a clean turban on his head." So they put a clean turban on his head and clothed him with garments, while the angel of the Lord was standing by.

Joshua was the high priest; yet before the Lord, his garments were filthy and needed a change. Before man we look good and clean but before the Throne we are anything but that. Although we appear to be clean as compared to everyone else we are filthy and need to change our garments in the presence of the Lord.

The great deception in ministry is that BECAUSE we are in ministry we have a self cleaning system and do not need to do personal examination, practice repentance, and have no want for brokenness. We must wash up everyday, our garments get soiled sometimes and we are not even aware of it UNLESS we look into the mirror of the Word and the turn the search light of the Holy Spirit on our soul. When we get too big for our spiritual britches instead of taking the painful steps to lose the "excess weight" we choose to "buy bigger clothes" (redefine spirituality) and in so doing cover the bulges and justify the "new size."

God's desire for us to be clean is not because He is mean but He means business and has designed us to be clean and "lean."

In Christ,

Tommy G. Middleton

Baptist Association of Greater Baton Rouge

10560 Airline Highway ~ Baton Rouge, LA 70816

Phone: (225) 296-3943 ~ Fax: (225) 296-3946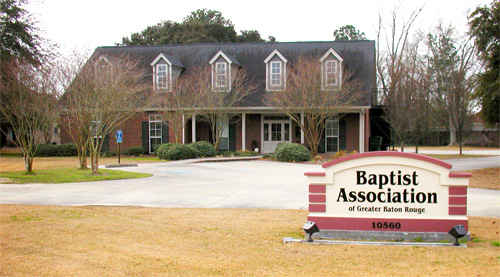 Adoniram Judson, Jr. Mission & Ministries Center

The Baptist Association's Vision, Values & Mission
VISION
The Baptist Association of Greater Baton Rouge will be a Network of Churches and Missions cooperating together as agents for positive change in the spiritual, social, and cultural fabric of their communities through Christian redemption and Christian life values. This vision will be accomplished by penetrating the community with the Gospel of Jesus Christ through family and community orientation, and social involvement that exemplifies the caring and sharing nature of Jesus Christ in order to effect life transformation in individuals, families, and communities. Actions developing from this vision will be relationship based, evangelism centered, service oriented, and training focused.
The churches and individuals of the Baptist Association of Greater Baton Rouge are asked to MAKE A COMMITMENT TO A VISION FOR KINGDOM GROWTH THAT IS LARGER THAN THE LOCAL CHURCH.
VALUES
Service – Christian concern results in observable actions that meet the needs of the lost
Relationships – Serving the needs of others establishes relationships for evangelism
Trust – Relationships based on biblical principles and Christian character establish trust
Commitment – Trust based biblical principles and Christian character establishes an opportunity for commitment to truth and life through Jesus Christ
Inclusion – God's truth and life through Christ's presence and forgiveness is open to everyone
Empowerment – All who respond to God's Spirit receives the power needed to fulfill God's call for training and service
Involvement – God's life changing call motivates each of us to actions of service
MISSION
The Baptist Association of Greater Baton Rouge has as its present mission (A) to establish new relationships between both the churches and pastors; (B) to strengthen existing relationships of the churches and members through a commitment to a vision for kingdom growth that is larger than the local church. This commitment can be evaluated by the degree to which the local church members will penetrate their community with the Gospel of Jesus Christ through family and community orientation and social involvement that exemplifies the caring and sharing nature of Jesus Christ.

Quick Links
Director Tommy Middleton
| Sermons |
What Does the Baptist Association Do?
Coming Soon